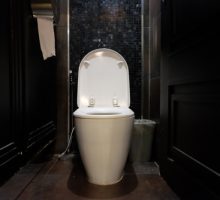 When planning a wedding, there are numerous important details to consider. From choosing the perfect venue and the right menu to picking out the perfect flowers and decorations, the list seems never-ending. However, there is one aspect that couples often forget about until it's too late – the restroom facilities. Overlooking your guests' restroom needs can lead to regrets and discomfort for everyone involved. That's why luxury portable restrooms for weddings have become increasingly popular, offering a convenient and stylish solution that ensures your guests' needs are met. Let's explore why investing in these restrooms is a decision you won't regret.
The Importance of Adequate Facilities:
Imagine attending a wedding where the only restroom option is located in a distant, poorly-maintained porta-potty. Not the most appealing scenario, right? A lack of suitable restroom facilities can quickly become a cause for discomfort, causing guests to leave early or feel less welcomed. By providing luxury portable restrooms, you guarantee your guests a pleasant and convenient experience, ensuring they can enjoy your special day to the fullest.
Style and Elegance:
Just because they are portable doesn't mean luxury restrooms can't be elegant. In fact, these portable facilities come in various styles, allowing you to choose one that complements your wedding theme. From sleek and modern designs to classic and vintage options, luxury portable restrooms can be styled to match any wedding aesthetic. You can even personalize them with amenities like fresh flowers, scented candles, or luxurious hand towels, making your guests feel like they are using a five-star restroom.
Comfort and Convenience:
Luxury portable restrooms are more than just aesthetically pleasing; they also offer a plethora of comforts that traditional porta-potties lack. These units often feature spacious interiors, climate control, running water, and fully-functioning sinks, ensuring guests have all the necessities they require. Additionally, some models even provide amenities like vanity mirrors, LED lighting, and Bluetooth speakers to elevate the overall experience.
Hygiene and Cleanliness:
One common concern associated with portable restrooms is cleanliness. However, luxury portable restrooms prioritize hygiene and cleanliness, providing a comfortable and sanitized space for your guests. They typically include professional attendants who regularly clean and maintain the restrooms throughout the event, ensuring that they remain spotless and odor-free. This attention to cleanliness contributes to the overall positive experience your guests will have.
Accessibility for All:
Another advantage of luxury portable restrooms is their accessibility for all guests, including those with disabilities or mobility challenges. These restrooms often feature accessible ramps, handrails, and spacious interiors that comply with ADA regulations, ensuring that everyone feels welcomed and accommodated. Providing inclusive facilities is not only considerate but also reflects the importance of making your wedding accessible to all.
Convenience for Outdoor and Remote Locations:
If you have chosen an outdoor or remote wedding location, access to standard restrooms may be limited or nonexistent. Utilizing luxury portable restrooms solves this problem, allowing you to host your wedding virtually anywhere while still providing your guests with the comfort and convenience of traditional restroom facilities. Whether you're exchanging vows on a picturesque beach, a rustic barn, or a breathtaking mountaintop, luxury portable restrooms ensure that no one has to compromise on comfort.
Conclusion:
When planning your wedding, overlooking your guests' restroom needs can lead to regrets and discomfort. By investing in luxury portable restrooms, you prioritize your guests' comfort and convenience, creating a memorable experience for everyone involved. These stylish and well-equipped facilities provide superior hygiene, accessibility, and amenities that standard portable restrooms can't match. So, as you plan your dream wedding, don't forget to include luxury portable restrooms on your checklist – a decision you won't regret.
Got Questions? Let Us Help!
Welcome to Johnny on the Spot! Established in 1990, Johnny on the Spot has been the premier provider for portable restroom rentals throughout Napa and Solano counties. We have basic stationery units, ADA accessible units, single mobile units, deluxe fresh flush units, VIP solar-powered units, and free-standing handwash stations. Our portable units are perfect for special events like weddings, festivals, sporting events, and casual gatherings. They are also ideal for construction and remodeling sites. In addition to restroom rentals, we also provide RV restroom servicing and customer-owned portable restroom servicing. At Johnny on the Spot, we are dedicated to providing our customers with quality and reliable service. Call us today!