Basic Restroom Trailers in American Canyon, CA
Johnny on the Spot is the name to call for restroom trailer rentals in American Canyon, Napa Junction, and Middleton, CA and the surrounding region. Whether you need temporary facilities at a construction site or you're hosting a special event, we've got the solution for you—from basic toilets to ADA-compliant restroom trailers. Leave the dirty work to us and enjoy a safe, sanitary place to go.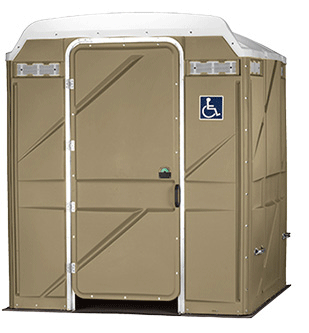 Basic Stationary Restroom
Our Basic Stationary Restrooms are ideal for a wide variety of uses, from construction to casual gatherings, festivals, sports events and more. These units are also available with an in-unit hand wash station to promote sanitary practices. Keep in mind that OSHA mandates all employers in the construction industry provide hand washing facilities for their employees, and we make it easy for you to do just that. Let us know and we'll get you the upgraded units you need.
ADA Accessible Restroom
If your event requires an ADA-compliant restroom, we've got the solution for you. Our portable restroom trailer rentals are ideal for events of all types, and they're great for parents with small children or anywhere a more spacious restroom is needed. They meet all OSHA and Americans with Disabilities Act (ADA) compliance requirements.
Single Mobile Trailer Mounted Restroom
Our restroom trailers are the best you'll find in Napa, CA. Our Single Mobile Trailer Mounted Restrooms feature an in-unit hand wash station to promote sanitation. These units are ideal for vineyards, farming, landscaping, construction, marathons, bicycle races or any other event or job site that requires flexibility. These restroom trailer rentals are mounted on wheels so they can be moved with ease, and they're low to the ground for easy entrance and exit.